Sociedad Deportiva Huesca S.A.D. is a professional football club with more than 100 years of history. It was founded in 1910 with the name of Huesca Fútbol Club. Throughout its almost 110 years of existence, the entity has evolved under different names: Huesca FC (1910-27), CD Huesca (1929-36), UD Huesca (1940-54) and, since 1960, Sociedad Deportiva Huesca. The majority shareholding of the current S.A.D. (Sociedad Anónima Deportiva - 'Public limited sports company') is held by the Alcoraz Foundation, which guarantees the continuity and survival of the club in the city of Huesca.
The team plays its matches at the El Alcoraz Stadium. After a major renovation in the summer of 2018, the stadium has a capacity of 9.100 spectators.
During the 2020-21 season, the team will play in LaLiga Santander, as it did for the first time in its history in 2018-19. After winning LaLiga SmartBank, the 'azulgranas' (blue and scarlets) see a return to the top flight as a great challenge.
Its motto 'Fieles siempre, sin reblar' (Always loyal, never backing down) reflects the spirit of the club, fans and province, and was first used by a journalist in the Diario de Avisos de Zaragoza in 1913 after the Huesca team's victory by 9-0 against Gimnástica de Zaragoza. 'People of Huesca, you are the land where there is no "reblar" (backing down)' he wrote in his chronicle. The verb 'reblar' stems from the Latin 'revirare' and means 'back down'.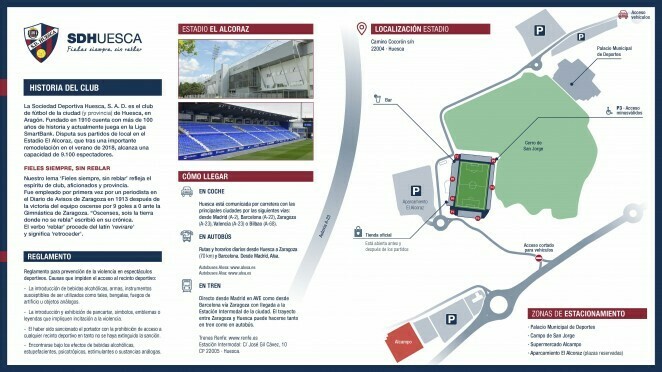 Check for the correct versions of our trademark files
Discover the story behind the phrase that represents our philosophy
Listen to the official song of SD Huesca